WordPress is the most popular Web Content Management System (CMS) all around the world. WordPress powers 39.6% of the internet in 2021, a growth of nearly 5% from 35% in 2020. Also, If you count only the CMS-built sites, then 64.1% of them are WordPress. What's even more interesting? Over 400 million people visit WordPress sites each month.

Good news? Webential has now become agency partners with WP Engine. We have already built many of our client's websites on WordPress in WP Engine. There are various hosting options available in the market when setting up a new WordPress site, but we chose WP Engine as our Preferred Partner for hosting WordPress Sites due to various reasons: But before going into the details of all those reasons, Did You Know?
1.2 million websites in 150 countries already trust WP Engine and we are one of them now.
One can boost performance with a 40% increase in page speed with WP Engine.
WP Engine blocks 109M+ attacks every single day with their security solutions.
1M+ websites are built faster with WP Engines development and design tools.
Secure, Reliable & Stable
WP Engine renders an exceptional level of balances and checks to make sure that customers' WordPress environments are safe with the help of multiple layers of security and redundancy built in. WP Engine renders a flexible and driving-edge platform for WordPress hosting with automatic daily site backups, unprecedented QA testing before releasing WordPress Core and Plugin updates along with high end backup and recovery processes.

According to Sucuri, approximately 78% of hacked sites are WordPress Sites.

This is due to open doors i.e plugins that aren't updated. Website security is one of the strongest features of WP Engine. It runs daily virus/ malware scans in partnership with Sucuri. They also keep a watch on an updated firewall to block new threats.

"WP Engine's Security Solutions block 109M+ attacks every single day"

All of their plans have an automated SSL certificate. All the websites are backed up on a daily basis. They also render a one-click restore function to help agencies recover their website in case of an attack. They conduct various webinars on tips to protect WordPress sites from being hacked. Lastly, WPE will clean your website for free if it gets hacked. We have trusted them for their next-level security standards which none other offered.
Fastest Managed WordPress Host
WP Engine is the fastest WordPress hosting platform and is the first choice for thousands of enterprises all across the globe. On average, when new customers move to WP Engine's platform, they see a nearly 40% improvement in page speed alone, right out of the gates. They simply aim at a multi-pronged effort that blends robust cloud infrastructure, SOC2 compliant security, and managed WordPress expertise to render top performance. One of the metrics WP Engine focuses on to enhance the performance is TTFB or Time To First Bite as it directly relates to page speed and the time it takes to load all the content on a particular page.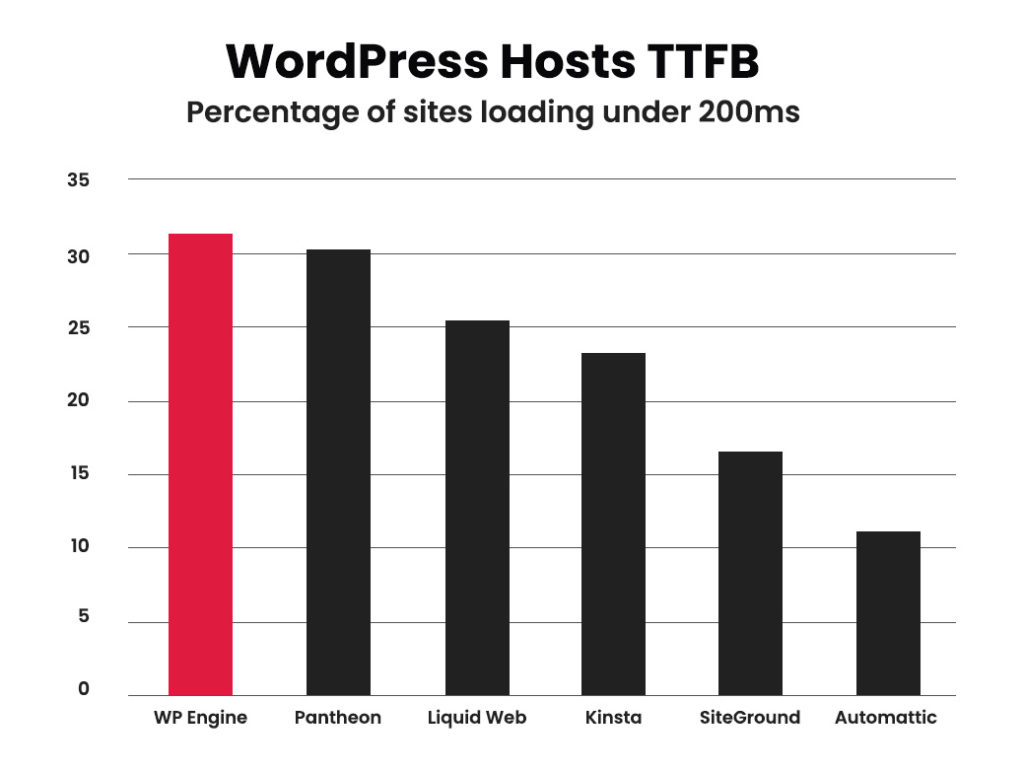 WP Engine hosts the highest percent of sites that load in less than 200ms. WP Engine is the best when speed is the most important for your website. According to Google, as page load time goes from 1 to 3 seconds, the probability of a bounce increases by 32%, on 5s it increases to 90%, on 6s it increases to 106%, and on 10s it increases to 123%.
Customer Support
WP Engine renders 24/7/365 support to meet the client's ongoing requirements. WP Engine regularly provides guides, webinars, blog posts, updates, tutorials, and a knowledge base to help users to:
Learn how to launch their first site
Learn how to troubleshoot common challenges
To understand how to elevate the website
To easily manage hosting account with enhanced efficiency
They render direct customer support through:
Live Chat: This service is available from 6 am to 8 pm for those who need instant support.
Phone: WP Engine also renders customer support on a toll-free phone number from 9 am to 6 pm.
Email: They also render 24/7 email ticketing support.

The best thing about WP Engine's Support is that their support technicians have deep WordPress expertise, hence they can render WordPress-specific support for any enterprise. They provide support for installing updates, plugin configuration, WordPress page loading issues, WordPress Page Speed Problems, Plugin Compatibility Issues, etc.
Pipeline
Pipelines enable enterprises to track their partners, deals, the value of their deals, etc. This will enable them to easily track finances, make business more efficient and keep a tight watch on the current market deals and follow up on leads.
Wrapping Up
There are various other attractive features that come along with the WP Engine Partnership such as anytime support, automated website maintenance, continuous monitoring, everyday site backups, 60-day money-back guarantee on all its subscription fees, a staging environment to spot mistakes before the customers do, direct onboarding support, launch readiness, reliable architecture rendering 99% uptime, and much more. This has been a strategic partnership with WP Engine.

Webential is proud to have shaken hands with WP Engine because it simply depicts we mean business, progress, and success when we develop a WordPress website for the client or use WPE's features to enhance their website, smoothly manage their hosting, and elevate social marketing campaigns. You can definitely trust a WPE partner to get the best hosting, functionality, and design for your website. Get Started Today.