There are 233 countries in the world (numbers vary, depending on what you call a country). Each is unique. Dozens among these excel at info-technology services. So how do you decide where to set up your offshore development center?

By placing your finger on the spinning globe to randomly select a location? Absolutely not. Guesswork? Not that either. Following the footsteps of your competitors? Nope. By conducting research and analysis to find where do different countries rank in terms of lucrativeness for ODCs? No need to take the efforts yourself when assistance is at hand.

Let numbers and expert judgment be your guide. Know what the figures indicate and understand what experts say and why. Then factor in your business specifics. After that, you'll be able to zero in on a location for your dedicated offshore development center.  
Start By Streamlining Your Search
The World  Bank published the Policy Research Working Paper 5262 in 2010. It stated that India and the Philippines were the only mature locations for ODCs. Both the countries had more than 50 centers. Take a look at the world map in terms of offshoring demand and supply maturity: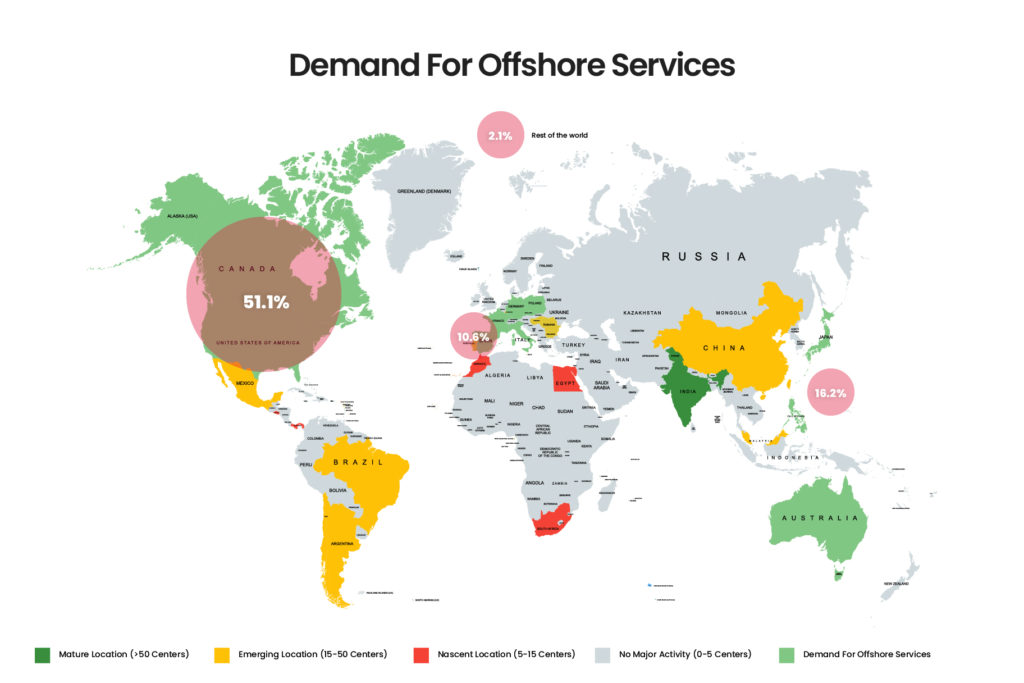 Mexico, Brazil, Argentina, Czech Republic, China, Singapore, and Malaysia were emerging locations. Almost a decade later, the 2019 GSLI Index by Kearney, came up with the following results: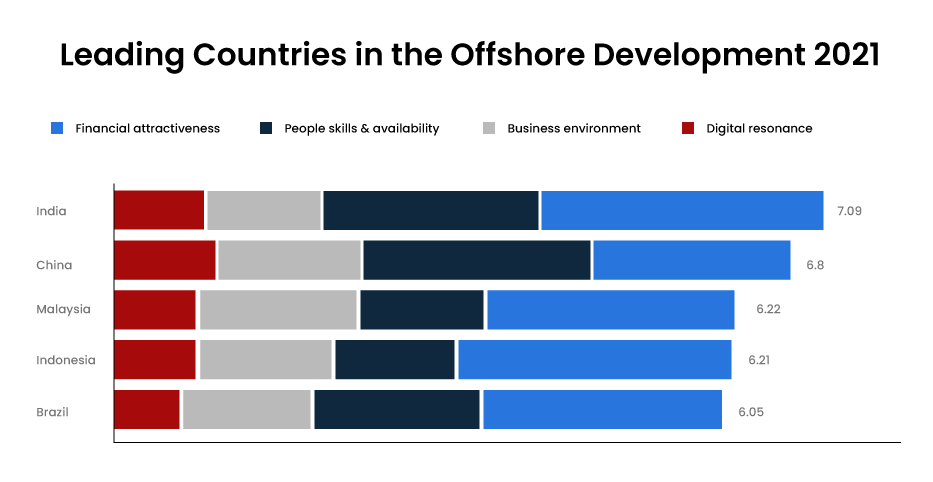 The study attempts to measure the attractiveness of locations for offshoring. And the results make it clear that Asian countries are ruling the roost. Moreover, while the Philippines got the 10th spot, India ranked number 1. The top 4 position holders — India, China, Malaysia, and Indonesia — have maintained their rank from the previous report that was published in 2017. Even when the factors included and the study methodology underwent a change, the chart-toppers remained on their spots. Now, considering the results of these two independent studies conducted almost a decade apart, we can come to three conclusions:
India has been successful in maintaining its position as the most lucrative location for offshoring. The Philippines, however, has had a setback.
Vietnam, Indonesia, and Thailand have performed well in the past decade and have climbed to the top spots. This is even when former studies didn't predict their rise.
China, Malaysia, and Brazil are the three countries that have met former forecasts about their offshoring potential and are now among the top ten locations considered most lucrative for setting up an ODC.

While it is tough to exactly predict what the situation would be ten years down the line, it is reasonable to assume that the countries that have been performing well will continue to do that.

Now, let us check out some facts and figures about the most promising location for setting up a dedicated development center, the one that has had the top spot for over a decade and is still growing strong and steady – India.
India As An ODC Location – In Numbers
Hiring an in-house software developer in the U.S. can cost around $80/hour after including employee benefits. Upon setting up an offshore software development center in India, the cost can be brought down to $15/hour. India is also predicted to become the largest hub of software developers by 2023.
There are over 350 million English-speaking people in India. It is more than the English-speaking population in the UK and USA. This makes sure that setting up an ODC in India won't cause any communication gap.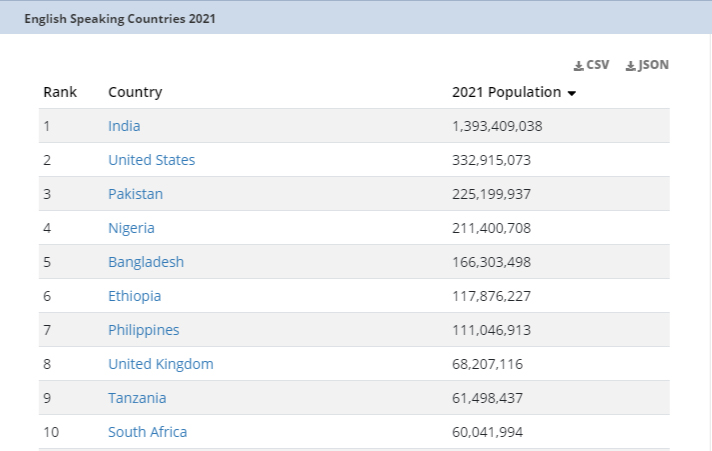 Unlike a 40-hour workweek in most developed nations in the west, an average Indian works 8 hours a day, 6 days a week. This gives companies with an ODC in India an edge of one man-day per week.
India is among the top ten fastest-growing economies in the world. This means the infrastructure facilities available today will only increase and get better tomorrow.
40% of the Indian workforce is going to amplify their skill sets in the upcoming five years to meet advanced requirements.
75% of the global digital talent resides in India.
In the Tholons Global Services Index 2020, India ranks as the #1 Digital Nation.
Deciding What's Best For Your Business
The facts and figures are clear enough. It is evident that setting up an offshore development center in India is a profitable proposition. If you choose India as your ODC destination, know that your decision would be backed by studies and data.

But, don't make a choice just yet. Every business has different needs. And if you think India can fulfill your business-specific needs, only then pick it as the location for your ODC. Here are the top 5 factors that should help you decide.
Cost-effectiveness
India has among the lowest rates for work. But the country also has the highest number of ISO-certified firms. Most ODCs are also compliant with Software Engineering Institute (SEI) and Capability Maturity Model (CMM) standards.

After all, 75% of CMM Level 5 certified companies are in India. This makes it clear that quality isn't compromised at all. If your business needs a fine balance of quality and low-cost services, pick India.
Available tech expertise
India produces over 3.1 million graduates every year. These graduates joining the workforce are from Science, Technology, Engineering, and Mathematics (STEM) fields. In this regard, India is second only to China.

With the quality of Indian education progressively increasing, those considering India as a location for ODC can rest assured about the availability of tech expertise. This also gives you the ability to scale fast.
Cybersecurity
India has strict cyber laws that help curb digital fraud and data piracy. If concerns about data security are the only thing keeping you away from India, know that you don't have anything to worry about.

Also, companies that have a global standing, like us at Webential, are extremely pertinent about standard compliance, signing NDAs, and ensuring data confidentiality.
Time zone
India is almost 12 hours ahead of America, 4.5 hours ahead of Britain, and 4.5 hours behind Australia. The time zone difference allows companies to run their business 24/7 with their ODC in India. The time difference also aids in better time-to-market values for businesses.
Business ecosystem
The Indian business ecosystem is thriving. The government is investing more and more in infrastructure development for businesses. This has pulled up the Ease Of Doing Business Index. Also, you won't have to navigate any legal alleyways (Our offshore development center services include establishment guidance). This means you don't need to stress over the red-tapism that often characterizes the Indian business scenario.

Another point to be considered here is that IT is one of the top 5 priority sectors for the Indian government. It makes the business ecosystem for IT and digital offshoring even more conductive.
Time To Make The Final Call
You can get information, advice, and guidance from others, but the final call has to come from your end. I've made sure you have data to help you decide which countries hold the most potential for offshore development services. I have also listed the most crucial factors that you should consider before making a call.

We, at Webential, are just a contact form away. For guidance, advice, and initial consultation about setting up your offshore development center in India, get in touch with us to get the conversation started.