Offshore Development has gained quite a popularity during and post-COVID 19 crises. Major industry leaders opt for offshore development centers to gain maximum benefits and more profits. Hiring offshore development partners may seem to be an easy-peasy job. But in reality, it's the wave that flows from beneath.

Let's have a look at some of the interesting outsourcing stats:
Setting up an in-house software development team is a difficult task. It is time-consuming and requires a lot of effort and increases overhead costs to hire and manage experts. Hence, various enterprises choose to focus on their business's core value and go for offshore development centers. Before diving into the factors to consider while engaging for an Offshore Development Center, let's understand why or when you need an offshore development team.
You want to access top talent all across the globe who are not limited by location.
You need deep expertise in the latest technologies and best practices with a large pool of experts.
You are not sure about the requirements and don't want to suffer a loss during low tides. Your offshore development team can be easily scaled up or down as per your requirements.
You need dedicated developers who are entirely committed to your project and can deliver on-time quality results while acting as your in-house team.
You need top talent with deep expertise and proficiency but cost-effectively.
Check out the: Top Offshore Development Facts
Checklist: Things to Consider while Engaging with an Offshore Development Center
1. Geographic Location
The foremost thing to keep in mind while engaging with an Offshore Development Center is its location. The country must have a driving-edge infrastructure and adequate access to technologies for delivering services that you need. If your offshoring partner lacks adequate high-performance internet access, the deal can be expensive for you.

Choose a country that has a thriving business relationship with yours. This simply indicates that your offshore development partner can adapt to your culture easily as they might have cultural orientation. You must also consider the availability of skilled professionals. Brazil, Argentina, and Mexico are the best outsourcing countries to find offshore developers in Latin America.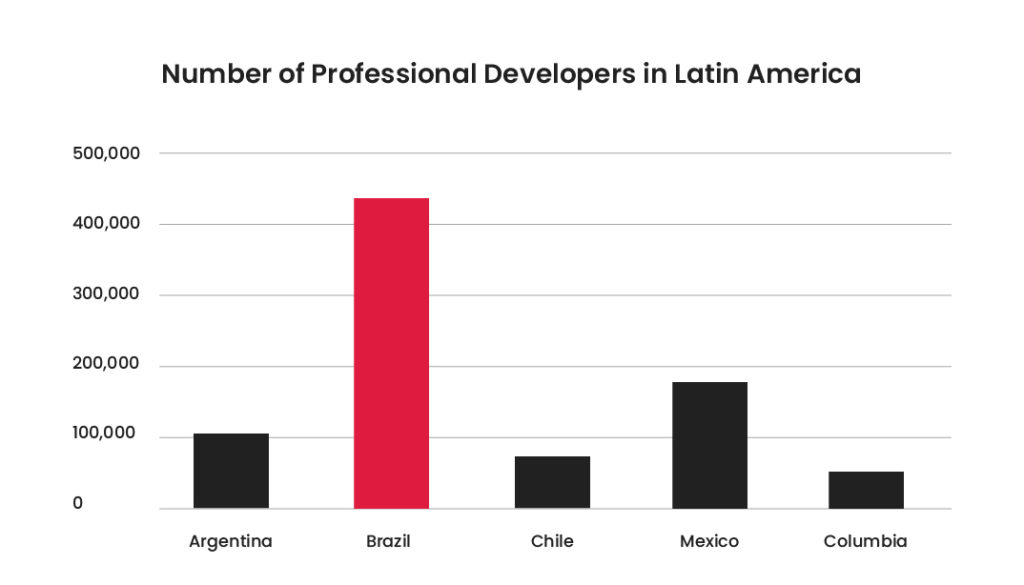 But if we talk about Asia, there are almost 4M software developers. Amongst which India consists of around 2.75M, 590k in China, and 190k in the Philippines. Although when compared to Latin America which has a literacy rate of 95.7%, India has a lower literacy rate of 90.6%.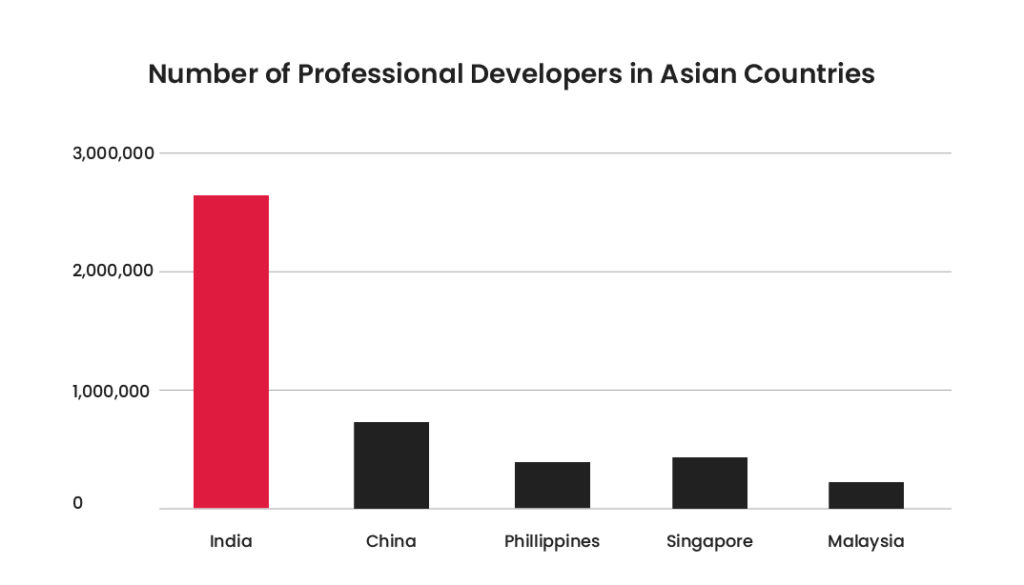 Still confused about choosing the best country for your offshore development center? Get detailed insights on Which Is The Best Country To Open An Offshore Development Center?
2. Language
Communication is the key to initiating, maintaining, and growing a positive relationship with any company. Good communication also guarantees expected results and resolved issues. If you want to shake hands with any offshore development agency, check out their English proficiency. This way, language can never serve as a barrier.

While talking about Asia, India is one of the largest English-speaking countries in the world. In fact, it has more English speakers than the UK and US. Indian developers are fluent in communication and it encourages major companies to Offshore IT Services in India. Employees are keenly available on Skype, Hangouts, and Teams for an uninterrupted communication experience. According to a survey, approximately 350 million people speak English in India. Hence, a company's journey of offshoring in India can be a comfortable one.
3. Skills and Proficiency
Along with Geographic location and communication, skills and proficiency are something you must peep into before partnering with an offshoring agency. After all, skills and expertise will help them deliver driving-edge results. Be it web development or digital marketing, India tops the Global Outsourcing Destination List for all It requirements. According to C SharpCorner, "By 2023 India will become the largest hub of software developers in the world." In fact, India will add approximately 110 million resources to its workforce in the next couple of decades. "India will overtake the US's number of software developers by 2023"

India ranks 63rd amongst the 190 countries as per the World Bank Report. India also tops the list of digital nations in the Tholons' Services Globalization Report 2019, Have a look at the score breakup: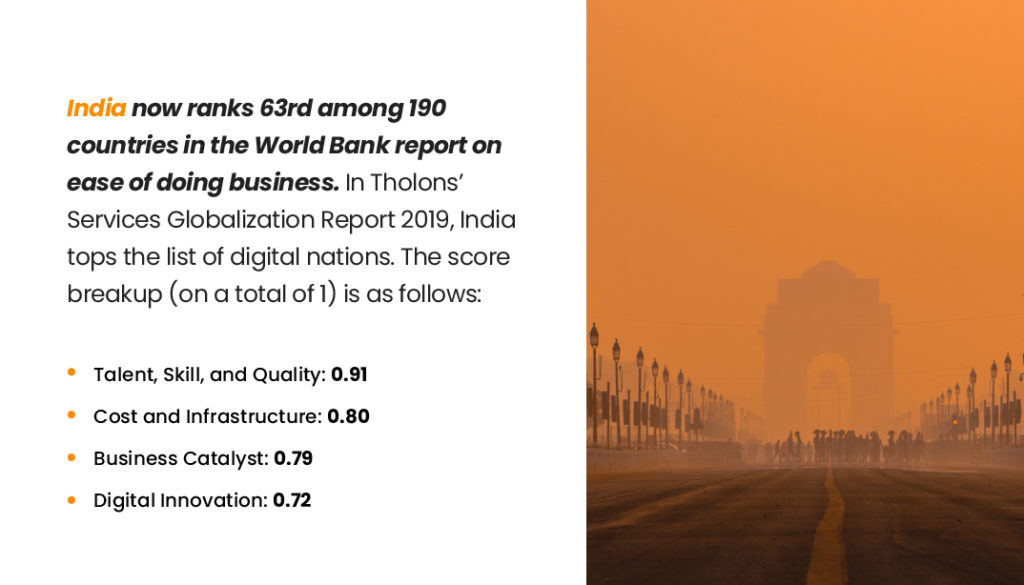 India also tops the AT Kearney and Preferred Location List of 2019 with a total index score of 7.09.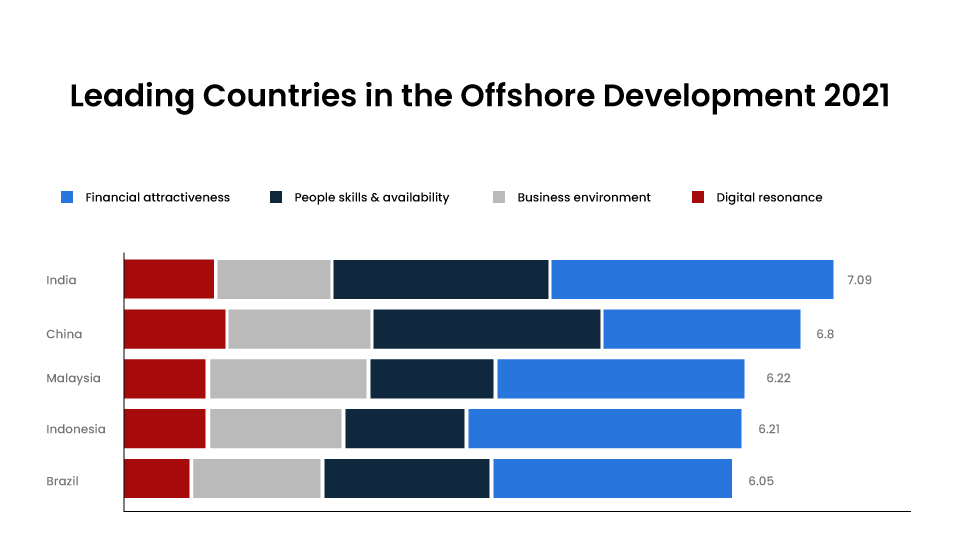 4. Company Stability and Reliability
Once you have chosen the country for an Offshore Development center, you need to check the company's profile and its credibility before making your decision. We highly recommend partnering with a reliable agency like Webential instead of hiring an individual freelancer for your needs. The stability and reliability of the company are important factors to make sure that your project does not suffer and you reap maximum benefits towards the end. Here's what you can do:
Check the annual financial statements of the company's growth profile while having an eye on their net income as well as revenue growth.
Determine the company's financial health by checking it's debt/equity ratio.
Find out the company's experience in the industry.
Examine the company website carefully. Have a look at their portfolio, case studies, testimonials, etc.
Also, inquire about the company's work experience with the clients in your country. That will give you an idea of how well they can blend in your business culture.
Last and the most important thing is to look for the enterprise's cyber-security commitment and history.
According to NASSCOM, "Over the upcoming five years, 40% of India's workforce is expected to amplify their skills to meet the advanced requirements" India is amongst the countries that have the highest number of ISO-9000 certified companies, and thus quality is never compromised. Hence offshoring services in India bring a bunch of benefits where the quality of the work is the top priority. Over 75% of the world's CMM Level 5 certified companies are in India.
5. Cost Effectiveness
The top reason for outsourcing (70%) is cost reduction. Cost Optimization is the most popular reason companies go for Offshore Development Center. But companies need to look at various criteria and countries to get maximum cost-cutting but at the price of qualitative results.

Let's have a look at the hourly rates of hiring dedicated developers across all the popular offshoring countries.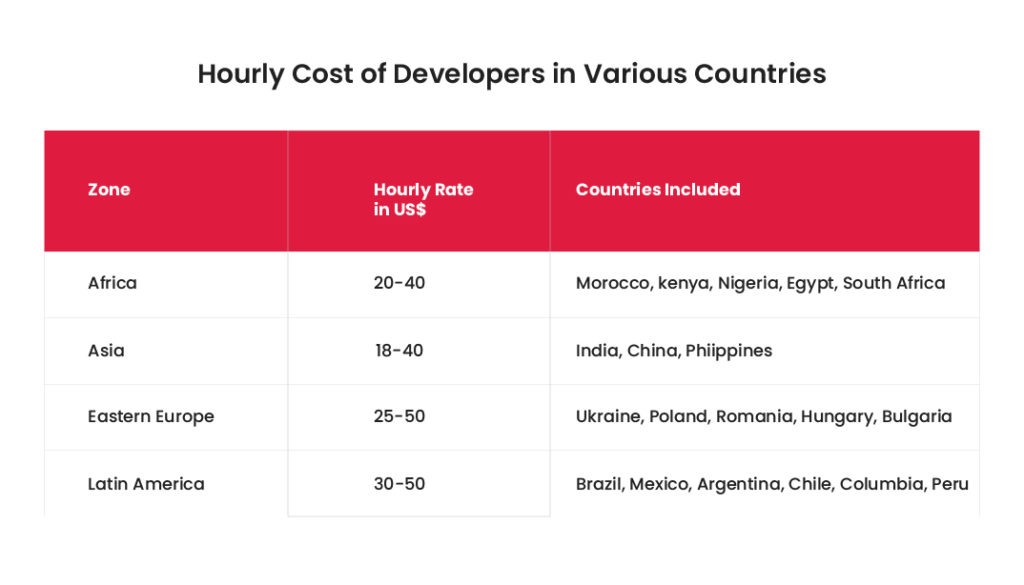 Let's have a look at a more detailed breakdown of the average hourly rates of developers across different countries as per their skills or expertise.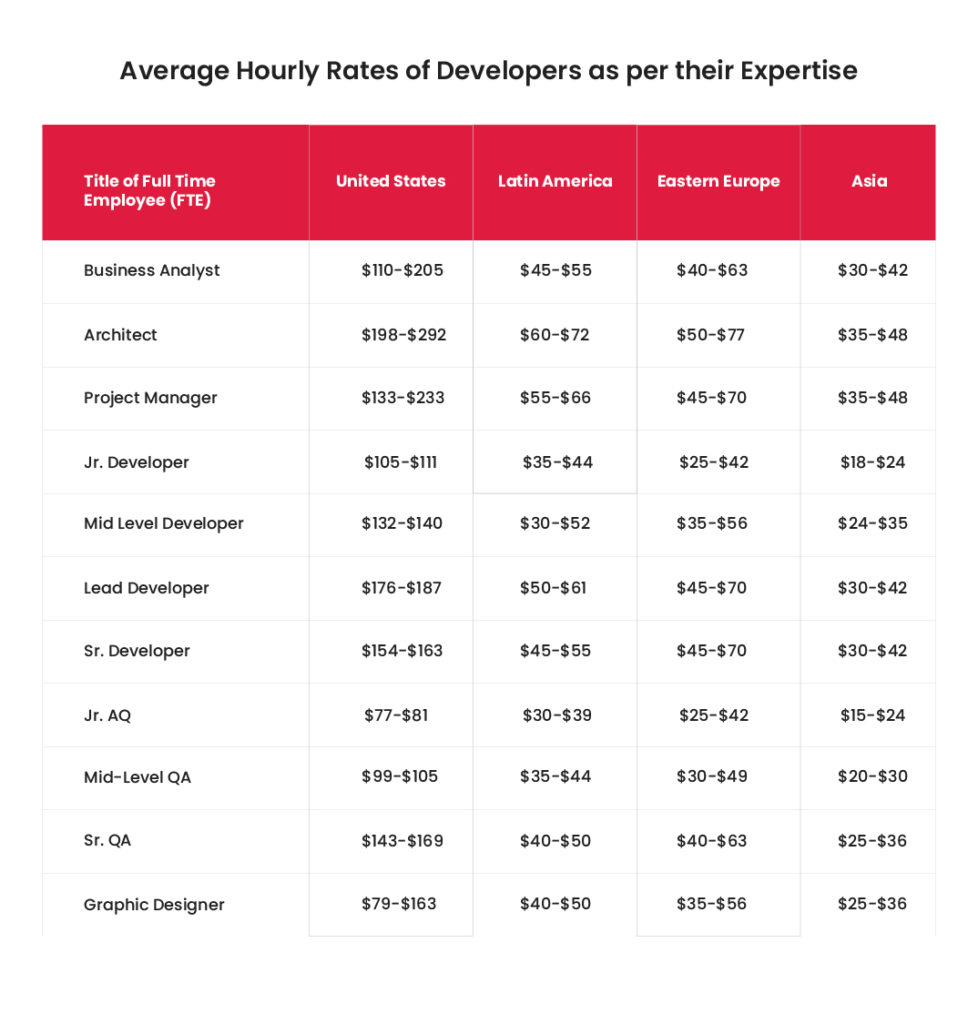 Most of the software companies are based in extremely expensive cities. Hence, the cost of living also increases. On average, a decent in-house developer will cost around $60-150 per hour and the employers also need to look for employee-centric benefits like health insurance and travel. If a company chooses a recruitment agency, they need to pay an extra amount.

"The cost of living in India is, on average, 64.60% lower than in the United States" The cost of living in India is very little as compared to the west. Even in tech-focused cities like Bangalore, the average developer salary is significantly lower when compared to other countries of the world. Tying up with the right offshore development agency can be much advantageous for your business.

You may also like: Why does it make more sense to set up an Offshore Development Center in India?
Wrapping Up
In this tech-driven world, every enterprise wants to compete and be on the top while implementing different strategies and technologies. Offshore development centers are a result of one such strategy – to gain maximum benefit, top quality result, scale the resources up or down, but at a very low price. You have to look around at various factors, do extensive research, and get your hands on a checklist before taking the final call.

India has the first preference of various reputed enterprises like Cognizant, Accenture, IBM, TCS, Dell, Infosys, TCS, Wipro, etc. It has easily managed to comply with demanding situations while managing tasks efficiently. Email, audio-video conferencing, chat support, project management tools, etc. have contributed to the smoother collaboration of employees and companies. Are you looking for a reliable partner to build your offshore development center? Contact Us now and one of our specialists will be more than happy to assist you in the entire journey.