Google recently introduced the new Performance Max Campaign type in Google Ads at the Google Marketing Livestream event for digital marketing and advertising experts. It is one of the biggest game-changers and the ace of spades from the recently added new features of the Google Ads platforms.
Though it may seem like any other campaign, Performance Max Google Ads is much more. For the last five years, Google has been strategizing to create a fully automated Google Ads platform. It's about full automation – Google's bigger vision.
In this blog, we have tried to cover everything that you need to know about Google Performance Max Campaign, its requirements, how it works, and step-by-step guidance on how to get started. Let's just dive into the pool of insights.
What Is Google Performance Max?
In simple terms, Google Performance Max is a new type of Google Ads Campaign that accelerates your performance across all the Google inventory by using machine learning technology.
In this fully automated campaign type, advertisers need to provide an asset bank of ad creatives like the call to action, images, videos, and copy. This will simply activate Google's smart bidding process on multiple channels, based on the goals of the advertisers.
Benefits of Google Performance Max
Goal Focused Campaigns
Performance Max Google Ads allows you to focus more on your marketing goals while accelerating the performance of your campaign. Google's machine learning will find your potential customers all across the Google properties based on your goals.

Great Performance
Google Ads has become smarter as it uses top-class machine learning and attribution technology to find the right audience at the right time with the right ad. This aids in powerful ad performance.

Better Automation
To maximize the campaign ramp-up period and render quick yet quality results, Google's new Audience Signals can prove to be a boon.

More Time To Focus
As Google aims to fully automate the campaigns, you have more time to focus on your strategies and result-driven planning along with optimizations such as creative assets.
The Meaning Of Google Performance Max Campaigns
In simple terms, all of an advertiser's manual work such as targeting, ad copy, and bidding is completely automated.
The result-driven and goals-focused campaigns unleash better performance all across the Google properties. Your marketing objectives are always prioritised as the targeting is directly based on the conversion goals that you select while setting up the campaign.
The auction data across all the Google properties are open to the algorithm. The creatives are fully automated based on your assets.
Google Audience Signals
For the very first time, Google uses Audience Signals to reach the most valuable audiences. Hence, you can simply render signals regarding who's most relevant to your business. This can be done by directly indicating the most potential and convertible audience, hence, speeding up the campaign learning process.
How To Launch Your Performance Max Campaign?
It's time to create your first-ever Performance Max Campaign. It will be displayed under campaign type selection if your marketing objective is, "Leads", "Sales", or "Local Store Visits And Performance".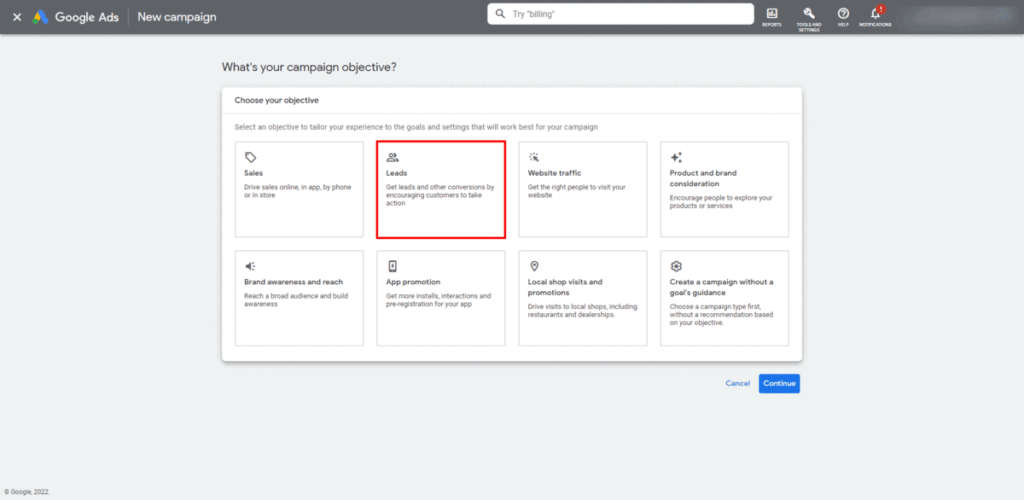 After that, select the campaign's settings as shown above. Then, upload the creatives.

That's it. From here, your ads will be automatically displayed across Search, Gmail, Discover Feed, Display, Maps, YouTube, and Shopping Ad Inventory.
Steps To Upgrade Your Smart Shopping Campaigns (SSC)?
As Google is transitioning to Performance Max Campaigns, you should also upgrade your current smart shopping campaigns to PMax as soon as possible.
Here's what Google's latest data reveal:
"Advertisers who upgrade their SSC to PMax with a Google Merchant Centre Feed see a 12% avg increase in conversion value as the same or even better ROAS "
The moment you create your PMax Campaign, you will immediately get access to the new inventory, various types of ad formats, and insights into your audience.
Steps To Upgrade To Performance Max with GMC Feed?
Select PMax in the campaign type and replace your current Smart Shopping Campaign.
Then, use the same Item IDs, ROAS, and budget for your existing Shopping campaigns.
Once you replace all your Smart shopping Campaigns, ensure to pause them for a quicker ramp-up time for Performance Max.
Learning Period Of Performance Max
After launching the new PMax Campaign, the learning period is around one to two weeks. You don't need to count this period while evaluating the performance of your campaign. This simply means that you don't need to make changes or find estimated results for at least one week.
Google's Best Practices Of Performance Max
Avoid Campaign Overlapping
This is an important point. It is vital to ensure that you don't overlap any of your SSC while running PMax.
Feed It
PMax algorithms are dependent on data. Thus, the more assets and audience, the better your campaign's performance.
Multiple Goals
You need to set more goals as and when your campaigns evolve in order to get better results.
What's More?
Google Ads Performance MAX does everything that you expect from a PPC manager. The traditional PPC campaign management is almost redundant due to the full automation of Google Ads'. But that doesn't mean you wave Goodbye to your PPC manager. Much more work can be done by PPC managers. Luckily, this change saves a lot of time and you can focus more on comprehensive thinking and enhance the marketing funnel.
So Where Should PPC Managers Spend Their Time?
They can focus on optimising all your business assets such as product feeds, marketing videos optimization, updating your Google My Business profile, and much more.
They can focus on improving the marketing strategies i.e. better connecting the audience and ads, value propositions, etc.
PPC Managers can also focus more on escalating user experience. They need to take care of updating your website, app, or even landing pages to deliver an unforgettable and valuable user experience. This reduces the chances of visitors leaving your website without converting.
PPC Managers can pay attention to website optimization. This enhances the process of converting website traffic into leads and customers. You can find the failures and work upon them by focusing on user behaviours.
You might also like: PPC And Paid Advertising: Display vs. Search vs. Social Ad Differences