Offshore development centers are great. They help businesses expand, save money, grow faster, and go global. The model is simple, as explained in the infographic below:


But offshore development centers are NOT for everyone. Like any other business scaling model, an offshore development center (ODC) is not a one-size-fits-all shoe.

Don't avail offshore development services just because everyone else seems to be doing it. If you don't need more manpower right now, the task force at your ODC will be just a liability for you. If you don't set up your center when you need technical expertise in a particular domain, setting it up later wouldn't be as beneficial. If you don't plan your offshore development process, hasty decisions would bite into your profits.

It all boils down to the timing. And you don't have to indulge in guesswork to find the right time. We have laid out five situations that indicate it's the 'right time' for you to set up your offshore development center. Take a look: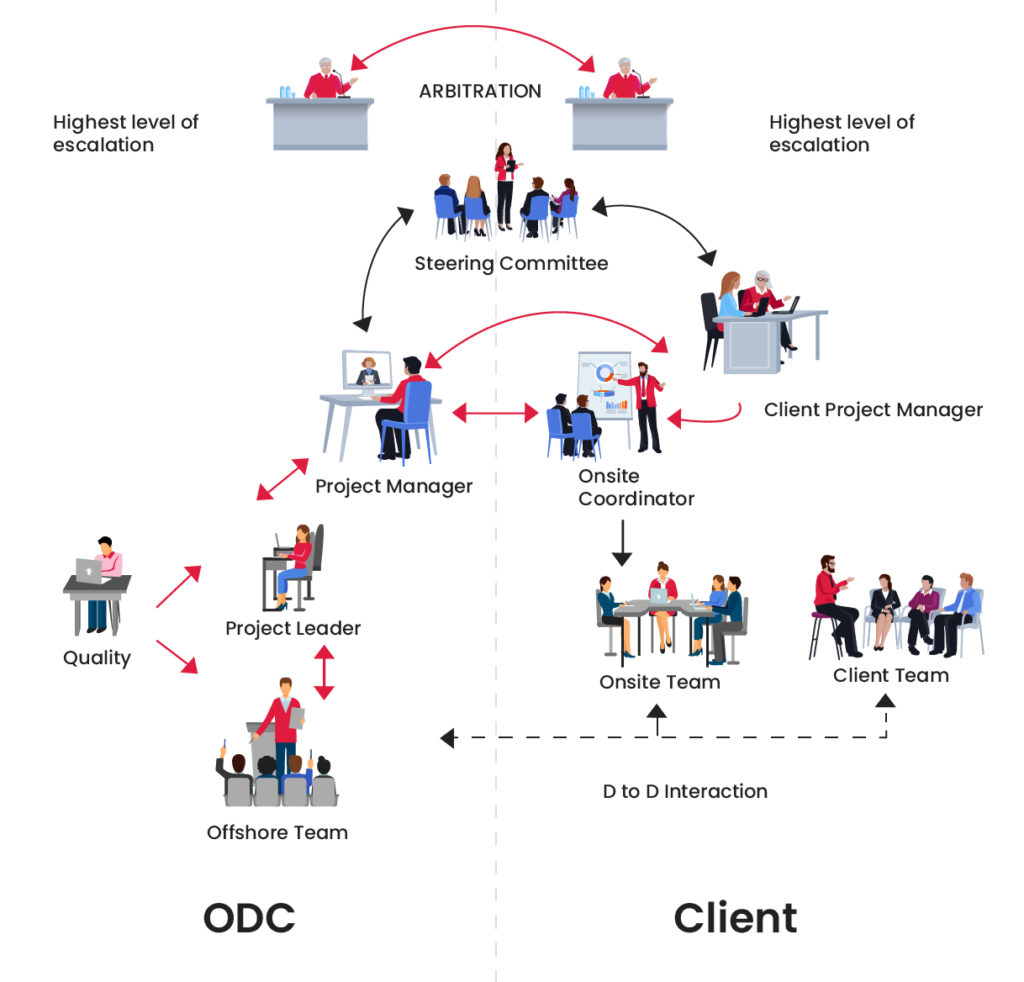 When you have multiple large-scale projects lined up in your kitty
Before we begin, Multiple large-scale projects = Not one or two or even five projects. It means a constant stream of projects that are too large in scope for your in-house team. Lined up in your kitty = When you are sure you will get those projects, preferably after you have had some sort of initial agreements with your clients.

Why Is It Important?
When you have just a couple of large-scale projects or when you just 'expect' to get more large-scale projects, you'd be taking unwarranted risks. Setting up an offshore development center is surely an easy way to scale. But it is easy in comparison to regular scaling by adding infrastructure and manpower.

As someone who has been deeply involved in the setting up of multiple offshore development centers, I can tell you one thing for a fact. Businesses have regretted setting up ODCs. Not because the model has some flaws. But because their leap towards setting an ODC ill-timed. Their company was not ready to grow. They didn't have the level of workflow required to keep an ODC functional. Don't fall into the same pit that many others have fallen into.
When you want to enter a new business market
Venturing into new business markets is tough. Especially if it is an international market. You aren't aware of the local business practices. You cannot feel the pulse of the local customers. You don't know how to navigate the local legal alleyways.

A trusted partner in such situations is godsent. Offshore development centers can be your partners here. If you want to expand into a market where you see potential, there is no simpler way than to set up an ODC. The market is foreign for you but local for your ODC partners.

Suppose you want to set up an offshore software development center in India. Now, you might not know how to go about the paperwork for that. Certainly not as much as we at Webential do. And instead of trying to charter a boat in untested waters, you can just hop onto our already steady sailing ship.
When you need a diverse team of professionals
This one is pretty straightforward. And yet I have seen many people neglect this aspect and fall face first. If you need five more digital marketers on your team, don't even think of setting up an ODC. Just give us a call and we'll match you with expert offshore employees. And you can then start working with them within 48 hours.

ODCs are the best fit for situations when you need a diverse team. With an offshore development center, you will get an assortment of tech professionals. And not just experts in one field. So whenever you find yourself at a crossroad where one side requires you to onboard a team of diverse professionals in-house and the other is to set up an ODC, go with the latter.
When you want to scale but have a limited budget
Pay attention to the word 'limited' here. When you want to scale you would ordinarily need funds for the following expenses:
More manpower
More technological investment
More physical infrastructure development
Now, it is time for setting up an ODC when you only have funds for manpower. You can strike off technological investment and physical infrastructure expenses from your list with an ODC. All you have to do is pay for the manpower.

Now, I have seen more than a handful of businesses come to me with literally no funds to spare. All of them were considering setting up an ODC. And I don't blame them for believing the claims that offshoring can be done without any investment. Those claims are plastered all over the Internet. But here's the truth – Offshore development centers are possible and suitable for those with limited budgets.
When you need specific tech experts that are not easily available
Software developers in the US charge an average of $30 to $50 per hour. In India, the rate is between $18 to $40. Annually, the difference in the gross salary that you'd be paying would be sizeable as evident from the graph below.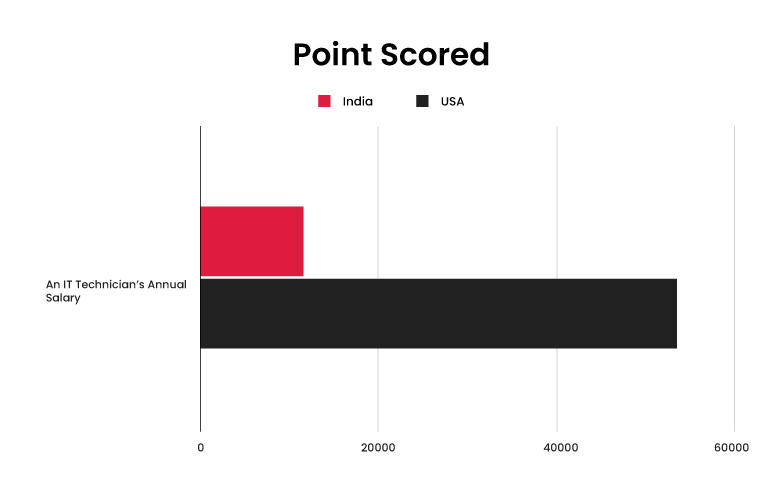 Also, the American market is facing an acute shortage of tech experts. The demand-supply has a huge gap. India, however, offers a surplus of talented software developers.

In situations like these, it is logical to set up a dedicated development center in India. If your manpower needs are being sufficiently and cost-effectively fulfilled locally, offshoring might not be the best idea.
Making The Final Call: Start Your Secondary Thinking Process
Now you know the situations that are the 'right time' for setting up an offshore development team. But still, the final call should depend on careful deliberation. It should be the result of collective secondary thinking on part of the key decision-makers.

What is this 'secondary thinking' right now?
Well, secondary thinking is taking into perspective, not just the immediate and obvious facts of a situation. It involves factoring in long-term considerations and a wider viewpoint.

Suppose you have five plus big projects lined up. It may seem tempting enough to set up an offshore development center in India. But are you 100% sure you will be able to keep up the stream of large-scale projects? If you don't get more sizable projects after 6 months or even a year, what will happen to your offshore development center?

Primary thinking would suggest setting up an offshore development center in India. But it is only upon secondary thinking that you'd realize that a dedicated offshore employee model would be more suitable for you.

Another example could be of contradictory primary and secondary thinking results is offshore development center security. You are working on a project that requires secrecy and confidentiality. Now your first instinct is likely to be to keep the vital operations as close to your office as possible. But when you factor in the high-level security measures, data privacy norms, and NDAs that ODCs operate on, you'll realize that it is, in fact, a safer proposition.

At Webential, we don't randomly prescribe ODC as the solution to every business need. Upon initial consultation, we can help you choose from among the several models of offshore working available. This ensures guided decision-making and absolutely no wastage of resources or opportunities.

So, what are you waiting for? Get in touch with us today. Whether you are sure you need to set up an ODC or you need an expert second opinion, we can come to your aid. And we are just a simple contact form away.