White Label Agencies are specialized digital marketing agencies with a team of dedicated developers, designers, and marketers that work together as an extension of your in-house team. In most cases, white labels work for another digital marketing agency looking to outsource certain tasks, and the reasons are aplenty, as outlined in the figure below.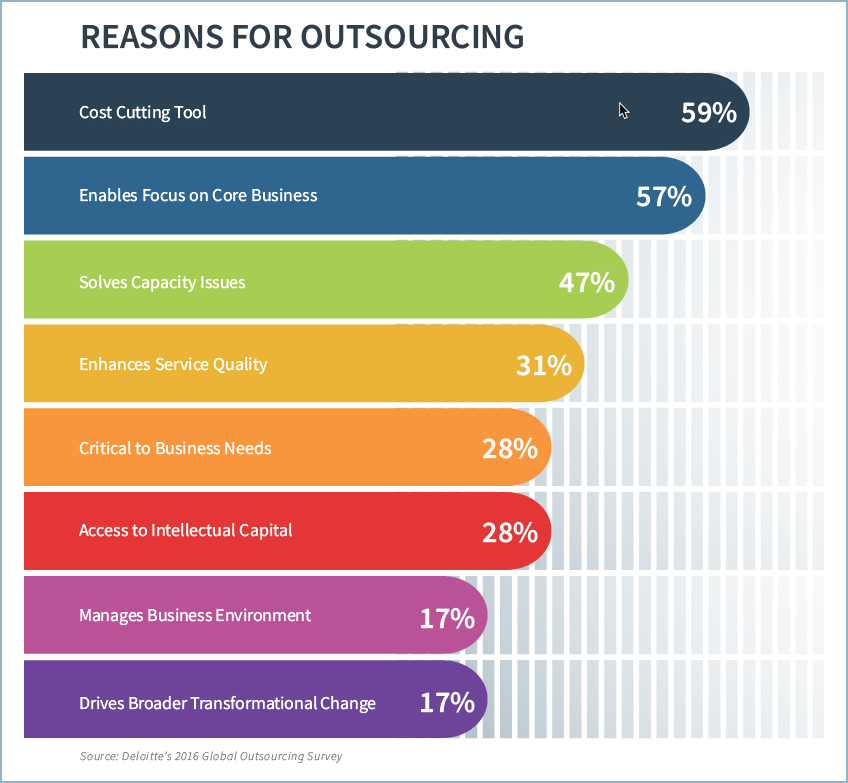 Digital Marketing agencies often seek the help of such agencies to incorporate specialization into the end-product along with cost-efficiency and speed. They do that to cover a wide range of services without having to employ specialists from each field. The bigger picture points to the fact that this collaboration helps scale businesses without you having to fret about costs associated with hiring, training, and retaining employees.
Also, since your business will not and cannot specialize in everything, a white-label product or service can be rebranded to make it seem like you came up with it. And in a way, White label services can make your business appear larger instantly.
But how does all of the above translate into accelerated growth for an up-an-coming agency in the market? In a sequential manner, let's take a look at how you can kickstart your digital journey and leverage the power of white labels to make it big.
Different Types of White Label Partnerships and Pricing Models
Closed Partnership – This kind of partnership will mean that throughout the tenure of your contract with the White label agency, your clients will remain unaware that a white label agency exists in the background. And you will require separate contracts with the client and the agency.
Open Partnership – Open Partnership implies that you have separate contracts with the client and the agency as well, but the client will be fully aware that a white label agency exists in the background as it will act as an extended arm of your in-house team.
Endorsed Partnership – During an endorsed partnership, both you and the White label agency will be in constant touch with the concerned client and work together to make the project a success. You are also liable to charge a referral fee from the white label company after factoring in other contractual aspects.
When it comes to White Label pricing models, one of the preferred pricing models adopted is the 'Fixed' model, wherein the white label company will review the requirements thoroughly and revert with a detailed report consisting of deliverables, deadlines, and a fixed price.
However, another alternative is offered by an 'Ad-hoc based' model, where you can reach out to white labels directly and explain the status quo. This will incorporate project management tools like Asana or Trello to assign tasks, and the agency will record the hours spent on each task, followed by monthly billing.
Building a successful digital marketing firm requires an enormous amount of work, and it is easy to get sidetracked from growing your business. But tapping into the white label conundrum and mastering it immediately offers you the full stack of resources without increasing business operating costs. Let us now understand how you can work your way through this juggernaut.
Understanding What's Best for Your Budding Agency
For an agency that's looking to set its feet in the digital marketing space, it is imperative that you make sure the white label company you hire has a scot-free past record. The partner you shake hands with must have a clear vision of offering solid services and ample white-label experience. Needless to mention that they must possess the ability and acumen to offer excellent services and support.
The agency needs to be transparent and smooth in its operations and should be able to handle upfront client meetings if and when needed throughout the collaborative process.
However, with the increasing accessibility of specialized talent, everything will boil down to what you want to achieve down the line and how you want to reach that goal. Moreover, your roadmap will decide whether you'll go ahead with White labels or freelancers to get the job done. And with past estimates suggesting over 57 million freelancers in the United States (a staggering 36% of the entire workforce), choices are abundant.
After the scouting process, the contractual clauses must clearly outline points of contact, deliverables, and the scope of the project. Do not fail to mention contingency strategies in case the task at hand goes beyond the scope and budget. As a budding agency, it is fairly likely that you might hit abrupt terminations, and to safeguard your relationship with the white labels, in that case, include clauses for when your clients kill the project before it's completed and compensation details.
Not only will hiring the right white label partner raise early revenue and save time, but you will potentially be able to manage successful business relationships through cutting-edge service while staying under budget. And in the long run, this will ensure that your clients keep circling back to you rather than moving on to the next agency.
Conclusion
The best White Label agencies won't leave you to face the client alone but will step up to take the tough questions and sort technical issues like an employee of your firm. The customer service and responsiveness to clients will not just deliver clicks and visitors but also long-term conversions.
The White Label staff is expected to boast a deep knowledge of all aspects of online marketing, including content creation, search engine optimization, pay-per-click advertising, social media marketing, and so on. With a plethora of avenues to pursue, they can take care of raising your online profile while you concentrate on the things that made you start the business in the first place.
And it certainly doesn't matter if you're a large size agency or just starting out; you can definitely benefit from white label services. The burden of scaling in lengths and breadths can be efficiently offloaded to able shoulders by everyone alike, irrespective of their size.
More often than not, small businesses find themselves in thick waters when pitted against the market bigwigs. This is largely due to a lack of manpower to offer all the services. White labeling is the solution.
Moreover, for relatively newer agencies, white labeling services can help foster crucial brand loyalty with your first batch of clients. From that point on, saving cash, having the freedom to market your business in a variety of ways, and an addition of services is just the tip of the iceberg.