Most of the employees have shifted to "Work from Home" scenarios during COVID19 and many continue to do so. Remote working practices have enabled a host of digital tools like virtual business planning, web conferencing, mobile collaboration apps, etc.
Despite the cost savings and productivity gains associated with remote work, it may come at the expense of the remote worker's emotional health – particularly, the remote worker can feel isolated and lonely. Ultimately, it can affect the productivity and engagement of remote workers to a larger extent.
According to Gallup, "Remote workers can feel lonely and isolated – but it's not typical and it is preventable"
Buffer also found that loneliness is one of the biggest challenges faced by remote workers.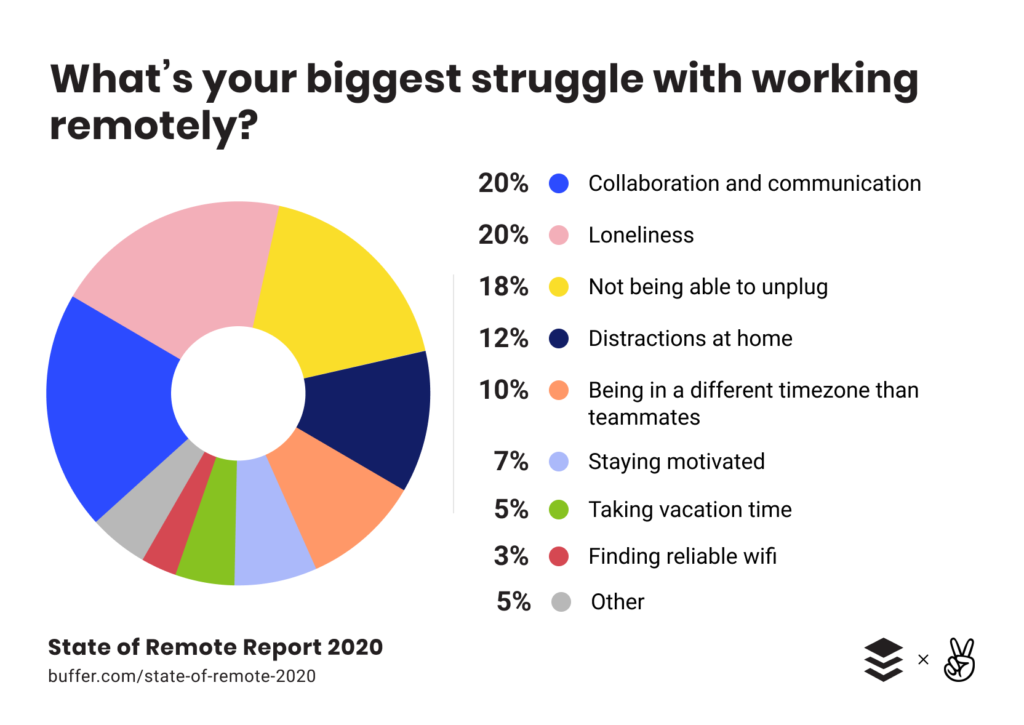 Loneliness and Isolation can lead to poor outcomes from physical and mental health productivity. Strengthening bonds and connections between remote team members can actually help reduce turnover and improve team collaboration. Here are a few simple tips to help remote workers with isolation and loneliness.
Encourage employees to get out of their Home Office
Digital interaction can't replace face-to-face time. But a simple change in the working location can simply uplift the feelings of isolation. Employees can try working from a different location at least once a week. There are plenty of co-working spaces or wifi-friendly coffee shops to hop on. A small library can simply be the first step. This way the employees can fight the feeling of total isolation, as they will be surrounded by people. If two or more remote employees belong to the same city or area, they can meet up once a week and work together in their comfort zone. The simple act of getting out of the house enables the employee to feel that they are a part of a larger community.

'84% of remote workers prefer to work from home compared to any other setting. The second most preferred setting for remote workers is coffee shops and cafes.'

Encourage the employees to take the initiative and reach out to other remote workers living in the same city or area to schedule a fun meet-up, where they can spend time together working on similar projects.
Make plans after work when you're feeling isolated
There are employees who feel awkward in communicating or socializing with their teammates or co-workers. To avoid feeling lonely by the end of the day, such employees can make plans with their friends, family members, or loved ones after work when they typically feel lonelier than usual. Such plans can help employees feel more like a part of a community. Such plans can also contribute towards strict unplugging rituals which is the next tip.

Getting involved with people, sharing ideas, making plans always enabled employees to feel more connected and less lonely.
Follow a Strict Unplugging Ritual
Another common drawback that contributes to the feeling of loneliness and isolation during remote work is overworking. Employees may have their daily goals or tasks and would unplug only after finishing the targets. This may eventually lead to a feeling of loneliness; working alone for prolonged hours. It's difficult to shut down the system and get done for the day while working remotely. In fact, 22% of remote workers stated that unplugging from work is their topmost concern.

Creating work-life boundaries is essential and thus employers must encourage remote workers to follow a strict unplugging ritual. This way the employees can enjoy their personal space. If such boundaries are not set, remote employees may exhaust themselves by the end of the day.

To steer this up, employees can simply maintain a schedule where they'll no longer be lingering on work after a certain time or task. Others can find their own point of interest may be an online session or series which prompts them to shut down and leave.
Sprinkle in Socialization
Socialization is not just limited to having a conversation with coworkers. Employees can make the most out of the flexible schedule by planning activities or lunch with their co-workers or friends during breaks. Remote workers can find a skill class or an exercise class during the break hours rather than spending those breaks alone.

New employees and introverts find it more difficult to communicate with coworkers. In such scenarios, employers must take the initiative to help such remote workers to communicate with their team members and colleagues by regular group calls, chats as well as involving them in project ideas or suggestions. Even if there is deadline-driven work, employees must set aside time whenever needed.
Set up meetings on Video Conferencing Tools
Video conferencing or phone calls are one of the successful mediums to make an employee feel included. Team leads can go use video conferencing tools like skype, teams, etc. whenever their team needs to brainstorm, discuss ideas, present their point of view, or just give a suggestion. It is difficult to discuss things or chat. It can be exhausting if the opposite team member doesn't understand a person's viewpoint. Moreover, the tone of writing something can merely be estimated. Hoping into video or audio calls is a far better option than chats. If a remote worker is feeling lonely, these feelings will be triggered if the employee is a part of miscommunication and misunderstanding on a regular basis.

'87% of remote team members say that they feel more connected to their colleagues with video conferencing'

Good communication with the team members and others can help them feel more included and productive at the same time.
Encouraging Virtual Coffee Breaks
'37% of remote employees take regular breaks to stay productive'

When working remotely, employees have their own break time and don't interact much with other colleagues. For some who experience loneliness, it can be a challenge to step forward and opt in. Virtual coffee or tea breaks will encourage remote employees to hop in, connect, and listen to a conversation if they feel too shy to speak up. This can be done through video conferences. Such breaks on a daily basis can motivate employees to connect and grow together. Teams can also go for virtual quizzes, share thoughts and plans while still having space for non-work conversation.
Have remote team-building activities
Team-building activities may sound cheesy, but they certainly work when it comes to combating employee isolation and loneliness. To improve team collaboration and keep them connected throughout the workweek, consider testing out the following team-building tactics via video conferencing

Team lunch
Show and tell
Informal Talks
Coffee breaks
It has a bunch of other benefits along with preventing employee isolation. It includes motivating employees, boosting productivity, and enhancing communication. Get creative with your team-building time and have fun with it!
Celebrate successes
Be it remote work or not, employee successes deserve recognition. Employers, especially the team leads must celebrate and appreciate their team members' efforts. Even a little recognition and boost up employees for working better. This can ultimately enhance the productivity of an employee. They feel more motivated and important after being appreciated and recognized.

85 percent of professionals want to hear "thank you" in day-to-day interactions.'

Celebrating employees' success is a win-win. First employees feel happy, Secondly, other employees are motivated to work better. This also helps combat employee isolation when a performance or engagement software is used to recognize employees from afar.
'69% of the employees say they'd work harder if they were better appreciated'
Depending on the software, organizations can reward employees with points for achievements or give an employee a shoutout to congratulate them on a job well done. Using performance management software can help to increase employee engagement and give them an opportunity to recognize each others' accomplishments.
Say Yes to Remote Work, No to Isolation
More and more organizations are offering remote work opportunities post-COVID, isolation and loneliness can be a topic of concern. It's time for companies to embrace work flexibility and seize the opportunity of remote work as it can be a great win-win when done correctly. The above-mentioned tips are so basic yet ignored unintentionally many times. Don't let the home-office zone isolate your employees from the world. Creating a work-life balance to make the most out of remote work flexibility can help combat loneliness and isolation while uplifting productivity.