A leading eCommerce marketing platform, YOTPO announced a multi-year platform partnership with Shopify on 9th September 2021. Shopify is one of the most popular eCommerce platforms all across the globe with a 23 percent market share in the U.S. Shopify powers more than 1.7 million businesses in 175 countries all across the globe. This partnership is a strategic investment by Shopify. This will boost up Yotpo's growth and product development. This will not only enable merchants to connect better with their customers but also accelerate their businesses with the help of innovative marketing tools, strategies, and solutions. This strategic alliance will help brands strengthen customer relationships.

This powerful alliance between both companies will position Yotpo as one of the initial launch partners for upcoming Shopify development Features. With this Yotpo, aspires to develop top-notch technologies that will enable merchants of all sizes to outstand in this competitive market. Blending their product development roadmap, both the companies will work to render seamless shopping experiences that will ultimately connect touchpoints and enhance the relationship between merchants and customers.

Tomer Targin, the CEO at Yotpo, said that the new platform partnership is a prominent milestone in their business journey – their long-lasting relationship with Shopify, and in better serving their customers. He also added that they will be bringing five leading products to Shopify merchants very soon. They will be closely working with Shopify smarter, more connecter, and smoother experiences to deliver real value to their mutual customers.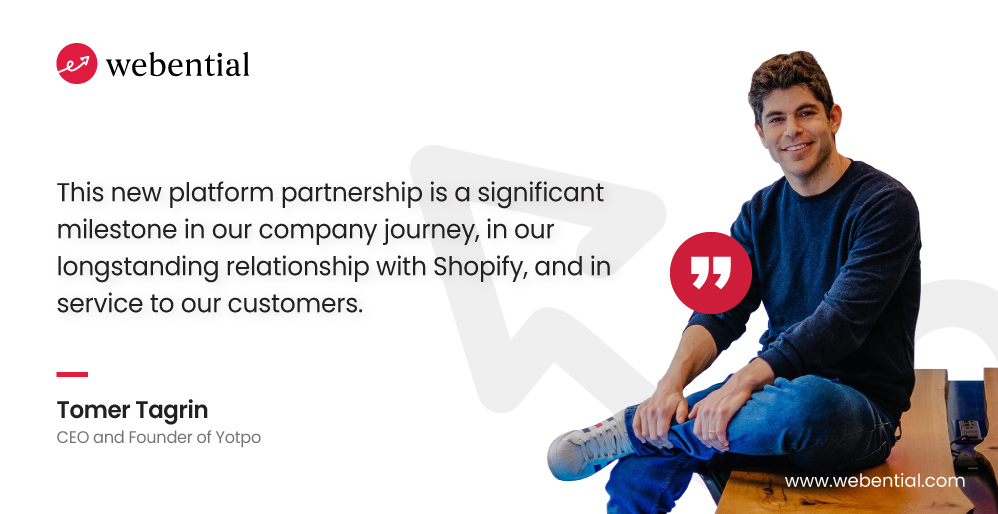 He further added that both the companies share a common belief that to thrive commerce in the future, it is necessary for the merchants to own direct relationships with their customers. This platform partnership will directly respond to a lot of time and energy merchants currently spend for their customer attention. He also added that with deeper integration between both of their technologies, Yotpo and Shopify will be working together to innovate on the marketing tech stack and dramatically recode the infrastructure of eCommerce."

Brandon Chu, Vice President of Product Acceleration at Shopify said, "Yotpo is a shining example of what can be achieved in Shopify's partner and developer ecosystem." He further added that they had already seen the Yotpo team deliver outstanding value to merchants. They have appreciated their tenacity and passion for developing a better version of eCommerce where independent brands have relationships with their customers. He said that their marketing technology solutions have earned the trust of thousands of marketers and that they are excited to invest in their growth and create even more impact, together."

Lastly, he added, "We hope that our strategic partnership creates an extraordinary and boundless impact on our ecosystem. He concluded by saying that Shopify wants to build a product alliance with Yotpo to render tons of benefits to the merchants."

The partnership between Yotpo and Shopify can bring lots and lots on the table as there is an entire community of developers and partners who build exceptional apps for over 1.7 million merchants.

Yotpo has proved to be one of the greatest success stories of the Shopify ecosystem. Its foremost mission is to help merchants strengthen customer relationships by rendering innovative features for SMS Marketing, Reviews, Referrals, Loyalty, and Visual UGC. Yotpo and Shopify have various mutual customers like Steve Madden, Princess Polly, Brooklinen, ThirdLove, UNTUCKit, Chubbies, Sol de Janeiro, Alkaline Herb Shop, and Parks Project.

To gain more insights on the news and further discuss the opportunities that this relationship unleashes for merchants and other partners, Yotpo is hosting a virtual industry event on September 14, 2021. If you want to register, visit the event site now.